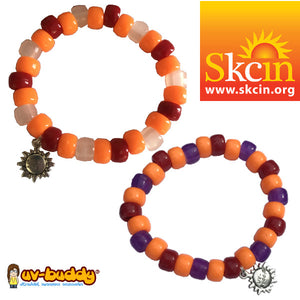 UV REACTIVE BRACELET
SKCINSHOP
Wear one of UV-Buddy®'s special reactive UV Bracelets to help keep you safe in the sun. The white magic beads are made of a special plastic material which contain pigments that change colour when exposed to UV light and act as a great reminder when you need to apply your sunscreen.

Each UV Bracelet contains:
• UV Reactive Colour Changing Beads
• Wooden beads
• High strength elastic and glued for extra strength

Please note this product contains small components which could become a choking hazard. This item is not a toy and not suitable for children under 36 months.

Each bracelet costs £5.16 which includes 1st Class Royal Mail delivery within the UK (for up to 20 units).

£2 of every bracelet sold is donated to Skcin to support our work in the prevention and early detection of skin cancer across the UK.